Our mission statement
We make our customers' value chains faster, more cost-effective and safer.
Your partner for logistics. Miry24 Logistik GmbH is focused on providing innovative services in the logistics industry.
In ever faster, constantly changing markets, it is important to adapt quickly to market conditions in order to efficiently design the value chain and distribution. Our goal is to help our customers succeed and to be a responsible partner.
Our services are characterized by the highest professionalism in our well-organized workflow.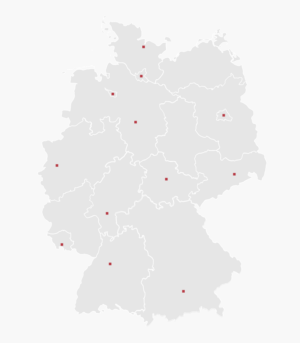 | | | | |
| --- | --- | --- | --- |
| Hamburg | Bremen | Kiel | Berlin |
| Rostock | Hanover | Düsseldorf | Dresden |
| Erfurt | Dresden | Leipzig | Frankfurt on the Main |
| Saarbrücken | Stuttgart | Nuremberg | Munich |
Our principles
For successful cooperation
We offer the customer a high level of quality
Our quality is based on excellent planning and control. In addition, we always keep an eye on the cost factor time. We are available to our customers at short notice 24/7 a week and distinguish ourselves through fast performance commitments.
We work team oriented
Synergy effects only arise where there is a trusting relationship with our employees. Honesty, politeness and respect is the foundation for successful cooperation. Through the team spirit we create efficiency.
Our goals
The success of our customers depends on the individual links in the logistics chain. Through our services, we create success-oriented logistics structures and processes that bring market advantages to our customers. We are aware of this responsibility and proud to be part of the whole.
Social commitment
Miry 24 takes responsibility in its social environment beyond its business activities. Regionally, Miry 24 supports young and talented athletes through social projects.
ISO certificates
Certified quality
As a full service provider, we have been established throughout Germany for several years and work for well-known forwarding and logistics companies.
ISO 45001:2018 Management system for safety and health
Healthy and motivated employees are the key to sustainable and economic success.
For this reason, we have made it our task to identify and eliminate risks and hazards at an early stage.
ISO 14001:2015 environmental management system for improving environmental performance
Our environmental performance covers all important aspects. Optimal and sustainable use of resources, as well as raising awareness of environmental protection among our employees, are particularly close to our hearts.
ISO 9001:2015 Quality assurance through process optimization
Quality and customer satisfaction, efficiency and responsiveness are the most important factors for a successful company.
Our contracts for work according to §631 BGB
We secure you!
For our customers we commit ourselves by the contract for work to produce the promised work (§631 BGB). In addition, we assume responsibility for any damage caused by us.